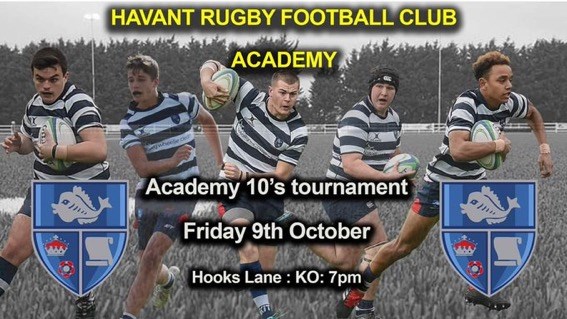 The Academy last week demonstrated an impeccable moments silence in memory of East Grinstead Head Coach Sgt Matt Ratana, on a day that saw our largest attendance to date, the Academy players stood silent in the middle of the pitch to celebrate the life of one of the rugby family.
This week we also had confirmation from the RFU that there will be a significant delay on the return to rugby pathway, with the sudden spike in COVID outbreaks, we will not see a return to league fixtures until at least January (Unless events change significantly).  Naturally Hampshire also elevated the safeguarding protocols across age grade rugby preventing inter club touch or Ready4Rugby fixtures.
The new restrictions continue to challenge the whole coaching team, all of which are digging deep into their coaching tool box to design sessions in a much more innovative way, I am pleased so say the tireless work of the coaching team is paying off and we saw four new players join us on Sunday raising our number to 63 – I think the real challenge will be if we ever see the whole Academy training together.
We recognise that we need to move towards more competitive training, so on Friday 9th Oct, the Academy will be holding an internal round robin of fixtures, we will be playing 10 a-side games under floodlights on the AGP 7 – 9pm.  We have invited Jeff Highcock from Hampshire, Jeff and his team will firstly run a session on the interpretation of the new ruck laws, followed by officiating the matches, we welcome any spectators.
We are also delighted to announce the new Academy Captain for the 2020/21 season is: Wilkinson, Nick has impressed all the coaches this year with his on field leadership and was a unanimous choice, Nick will be joined this year by a new player leadership group Bloomer, Bosher, Drummond (1st Year Colts) Bradford, Kies and Cooper (2nd Year Colts) – The leadership team will mentor and represent the interests of the player cohort.
Lastly we are still in need of Academy sponsors, if you are interested please contact us, we are looking again at providing Academy T-Shirts or Polo Shirts and some training kit, if you would like to know more please contact the Academy team manager – Francis Knight (academy@havantrfc.co.uk)
Follow us:
Twitter: https://twitter.com/Havant_Academy 
Instagram: www.instagram.com/havantrfcacademy