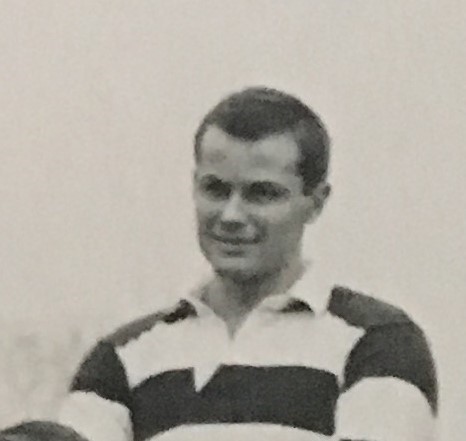 Former Captain of the mens 1st XV. Mike Taylor has passed away
Mike had, until illness overtook him in recent years, been a regular attender at the FPA meetings. However some of the younger members who met him there may not have been aware of the influence he had over the Club's development into the force it has since become.Mike joined the Club in 1957 on his return from National Service.
He established himself in the back row of the first XV. He was appointed Captain in 1962 and continued to play throughout the 1960s and into the 70s always in the first XV. He was one of those who helped in the Club's development form a start up club to being a force in, first Hampshire and West Sussex, and then in neighbouring counties and beyond.He had a second spell as captain a.bit later on.
This spell coincided with the introduction of coaching into rugby. Mike welcomed this and during his second spell he acted as a sort of captain/coach.His rugby career was ended by a knee operation suffered from an injury at Gosport and he then devoted his sporting time to Golf and a bit of tennis although he told me he missed the physical side of rugby when I first played golf with him. 
Mike had been very ill for the last two years or so and was in constant pain.  Even before that he had suffered with knee, hip and ankle problems, the pain from which he bore with great fortitude.
 By Roger Thompson
My memories of Mike include his Captaincy and ability to know how best to motivate each team
member. Some responded best in response to encouragement especially if they were having a bad game whilst others, perhaps having a good game, played even better if encouraged to 'pull their finger out'. The simple mantra of criticize the team, praise the individual was obvious from him.
I also recall on one occasion, arriving at the Club before a match to see Mike, who was Skipper that day, on the roof of the new wooden extension to our small brick built Club House with a mouth full of nails and a hammer in his hand, building the roof, not just repairing it.
One additional recollection is him. as Captain of the Havant 7 aside team in 1964 beating US Portsmouth in the final and then consuming far more of the elixir of life than was his norm and inviting the team round to his home later that evening where more ale was consumed.  His wife, Sarah, just smiled benignly and joined in the celebration.
What a sad loss to Havant Rugby Club and to Society at large.  A lovely man. 
 By Phil Grant
When I joined the club in 1970 Mike was coming to the end of his rugby playing career. I was fortunate to play with him on one occasion and it coincided with the first time my knee gave way. I was on the ground with bodies over and around me and back in those days players on the ground were considered fair game for liberal application of the boot. To minimise damage to me Mike stood over me preventing further misfortune to me for which I was profoundly grateful.
Like Mike I too eventually had to give up rugby and joined Hayling Golf Club where I came into contact with him again and over the years had many enjoyable rounds with him. On one occasion I found myself attending an AGM with him when he suggested I stood for election as a committee member which I did. I served under his 3 year chairmanship of the golf club where he was responsible for the successful multi million pound build of our new clubhouse only achievable through the huge amount of effort he contributed.
He was also a very active member of Seacourt continuing to enjoy Real Tennis until his injuries caught up with him and finally forced his retirement a couple of years ago.
I feel honoured to have been able to call him a good friend.      
 By Phil West
Our most sincere condolences to Mike's Family and Friends at this sad time.