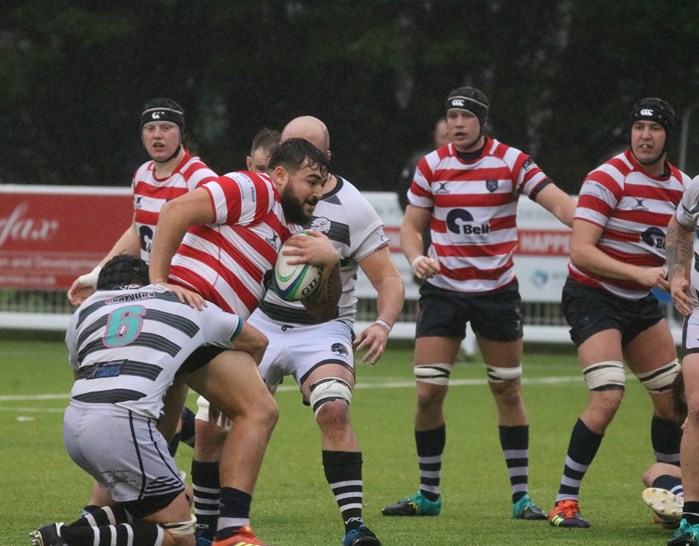 1st XV Squad
In the longest close season of all time its has not been all quiet as the senior men's squad prepare themselves for a first season back in the National leagues for nearly a decade.
Training has been going strong since July with the coaching team mindful of the need to manage training to make sure the players remain engaged and that the momentum is not lost.
Head Coach Will Knight, " It has been a real challenge. We have already been training for longer than a normal preseason and have the prospect of more than a normal pre-season still to go even if we get a January start." 
"We are working at developing skills and fitness within the framework the RFU has set out and we have seen some great development in these areas. It is hugely important that the squad are ready whenever we get the green light to start – otherwise all the achievements of last season will quickly become a distant memory."
Joel Knight maintains the 1st XV captaincy and Jake Hewett the role as Club captain with Rory Penfold announced as the new Dolphins skipper and Pete Living captaining the AXV. 
There have also been changes to the coaching set up for this campaign with Lewis Osborne taking sole charge of the 1st XV forwards in a coaching team with Knight and Ivan Torpey. Rob Packer is the Head coach of the Dolphins and he will be supported by Mark Sheldon (forwards) and John Santy and Rob Ashworth looking the backs.
Dr Joe Moore has oversight of the strength and conditioning programme and has been working hard to support all players to make the best of the extended lay-off by providing expert advice and guidance as well as overseeing the on-pitch programmes. 
The recruitment team lead by Adam King have managed to bring in approximately 25 new faces to the squad. A bumper crop of young players have trained with the club all summer and although some have now left for University we expect to see them back and available for selection during holidays. 
Will Knight, 
"It is difficult to list all the new players, but I have been very impressed with the crop of youngsters that have trained this summer. Matt Barrett who joined us from London Irish Academy looks a very exciting prospect and will keep the senior players on their toes."
"Personally, it is great for me to have my son Jacob back at the club and I know he is hugely excited to be here and have the chance to play alongside Joel. But he also brings Championship Experience and experience from Nat 2 and the league we are going into which will prove invaluable."
"There are some other exciting backs adding into the already very exciting squad we have and I thin competition this year will really drive standards. It has been great to see us pick up a few players from the Portsmouth University this year with the like of Luke Simmonds coming over."
"As always we maintain our traditional connections with the Navy and have been joined by players such as Gavin Hughan a  No8 who has Scottish National 1 experience and Tam Lindsay who also hails from Scotland and has been a key part of the Navy U23 set up."
The other thing this season has been the number of former player that have returned to the club, Nathan Bellman being a great example along with Dan Morgan, a former Academy Captain, who hasn't played for 10 years but has picked up in training like he has never been away."
"I think these are really exciting time for the club and the competition for  places will be amazing which can only ever be a good thing. All we need now is some rugby to play!"