Match Day @ Havant RFC 
We are very much looking forward to competitive rugby returning this Saturday 19th December.
Please see below some information about the day and maintaining a Covid 19 Safe Environment. Unfortunately, we are in Tier 2 which does impose some challenging restrictions on social interaction and distancing.
Club Room and Bars
The club operates a one-way system with entry to the clubhouse only through the front entrance. The club exits are through the Players' Tunnel, or through the President's Lounge Door to the Stand or the Exit to the new Fire Escape.
The following are available through the front door.
Access to toilets
Access to the Dining Room (Main Bar)
Access to the Takeaway Servery and the Stand
Bob's Bar will remain closed.
For those that would like to attend Christmas lunch on Saturday before the Havant v Eastleigh fixture you can book through the usual process, go to Havant RFC (rfu.club). Alcoholic drinks can be served with your lunch, but attendance is restricted to single households and support bubbles with no social interaction between groups. So not our usual full participation lunch!
Please note that when you have finished lunch and leave the dinning room to watch the game, the bar will be closed, and we will no longer be able to serve alcohol. 
Unfortunately, we cannot serve alcohol to anyone not attending the lunch as Government guidance states alcoholic drinks must be consumed with a substantial meal at a table. However, for those that do not join us for lunch, we can offer a takeaway service via the Servery for food and soft drinks that can be consumed in the stand or around the pitch. We have a festive spread on offer! 
Other Rules and Guidance for visiting the club. 
Car Parking 
The latest RFU Guidance states players should not car share when traveling to a game, this means potentially we could have 80+ cars for players and coaches. There will severely limit parking at the club car park or in the Bidbury School Car Park for supporters. 
Whilst it is Government Guidance to minimise the use of Public Transport, we strongly encourage all supporters to travel the club for this event using public transport where possible or arrange a drop off and pick up. As a last resort we will have additional parking available at St Thomas more school which is a 5 min walk from the club. 
If you need accessible space and to use the lift, please contact Paddy, HavantRFC@HavantRFC.co.uk to book a space.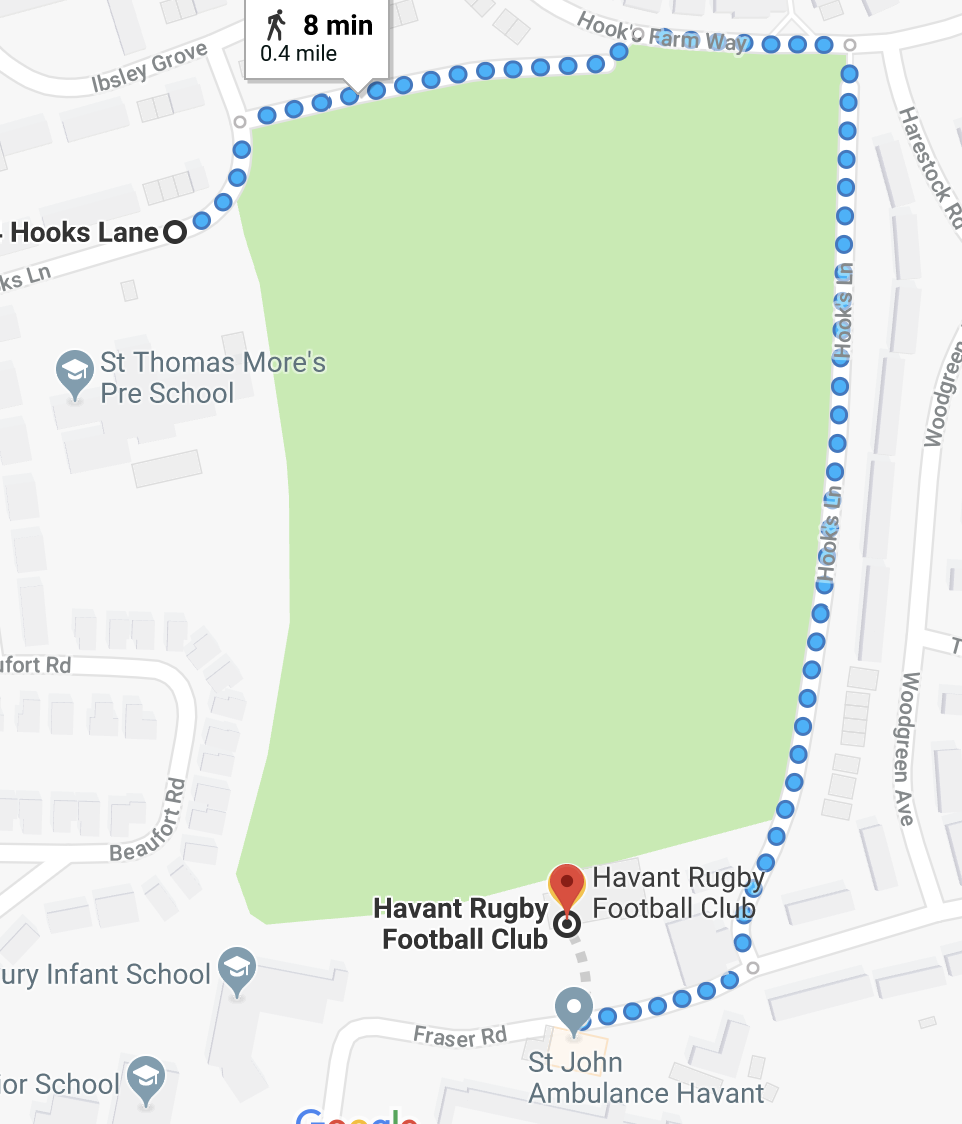 Clubhouse Stand 
The capacity in the stand has been reduced to 60.
If you have a season ticket you must confirm that you are attending on a game day at least 24hrs prior to kick off. Please contact Julie secretary@havantrfc.co.uk. Other available seats will be prioritised for those attending the lunch, any other available spaces will be offered on a first come basis by one of the stewards on the day.
Standing Pitch side 
Please, only stand next to a Duraloc fence post which has a safe standing sticker, this will maintain a +1m social space.
You are allowed to interact with people outside who are not part of your household or bubble but the Rule of 6 will apply and + 1m social distancing must be maintained.
It is very important that we behave responsibly pitch side so that we do not incur sanctions that could be applied to individuals, to the club or to the RFU resulting in the banning of contact rugby.
Key Points to Note
+1 m Social Distancing applies everywhere.
Social Interaction inside the clubhouse with own Household or Bubble, and Pitch side Rule of 6 applies
One-way flow, in front door, out through Players' Tunnel or the Stand
Access to Bars restricted to diners only
Access to seating in the stand by ticket only
Limited Car Parking at the club
Access to toilets through the front door (Upstairs and Downstairs are available during the game).
The club will provide Stewards at key points, please follow their guidance.