Pitch 2-5 Rescue Team & Pitch Marshals
It may seem a million miles away at the moment but at some point in the season we will almost certainly be faced with situations similar to those pictured below on the outer pitches when the AGP is already fully utilised – let's hope it's not as wet as last season!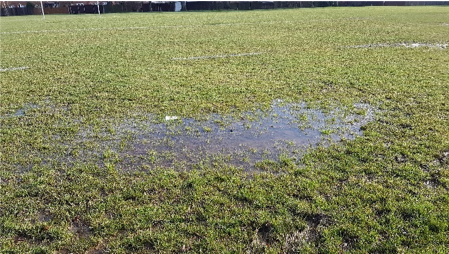 Whilst some of these situations are unrecoverable without making the situation worse in the long term, sometimes action can be taken on Friday's, Saturday's or Sunday's to improve the chances of playing or training at the weekend. The lack of drainage on these pitches does however limit what can be achieved.
What I would like to do is establish a team of volunteers who can be called upon to help out when these circumstances arise to spread the workload better.
It would be preferable to restrict this to a core team of about 10 individuals (of which 4-5 may be needed at a time) so that they can become familiar with the characteristics of the pitches and what does and doesn't work.
They need to generally be local most weekends in the season and be willing to get wet and muddy whilst exerting a bit of effort in the interests of getting as much rugby played as possible.
Also, and not necessarily exclusive from the above, we need people to help put out pitch flags and post protectors etc on Saturday's and Sundays (and remove afterwards) also checking that the pitch and surroundings are left clear of any litter. This task should primarily be supported by any team (players/management/spectators) involved in the matches but the marshal should audit that it has been done effectively.
If you are willing to help out in either of these roles please can you email me at houseandground@havantrfc.co.ukand copy havantrfc@havantrfc.co.ukgiving all contact details and stating which of the above, or both, you would be prepared to help with, and which periods you would generally be available to assist (Fri pm, Sat am, Sat pm, Sun am, Sun pm). I'd rather people were team independent but if you feel restricted to help one team please let me know (obviously away fixtures may make you unavailable on a given day but that is different from being restricted to a team)
If you are only available to help out occasionally – could you also let me know but make that clear.
Gordon Brember – Director House & Grounds